Concept / Illustration / Design
While living and running my own studio in San Diego, CA I was recognized and won awards for both Elf Garden Cafe and Ventana Photography.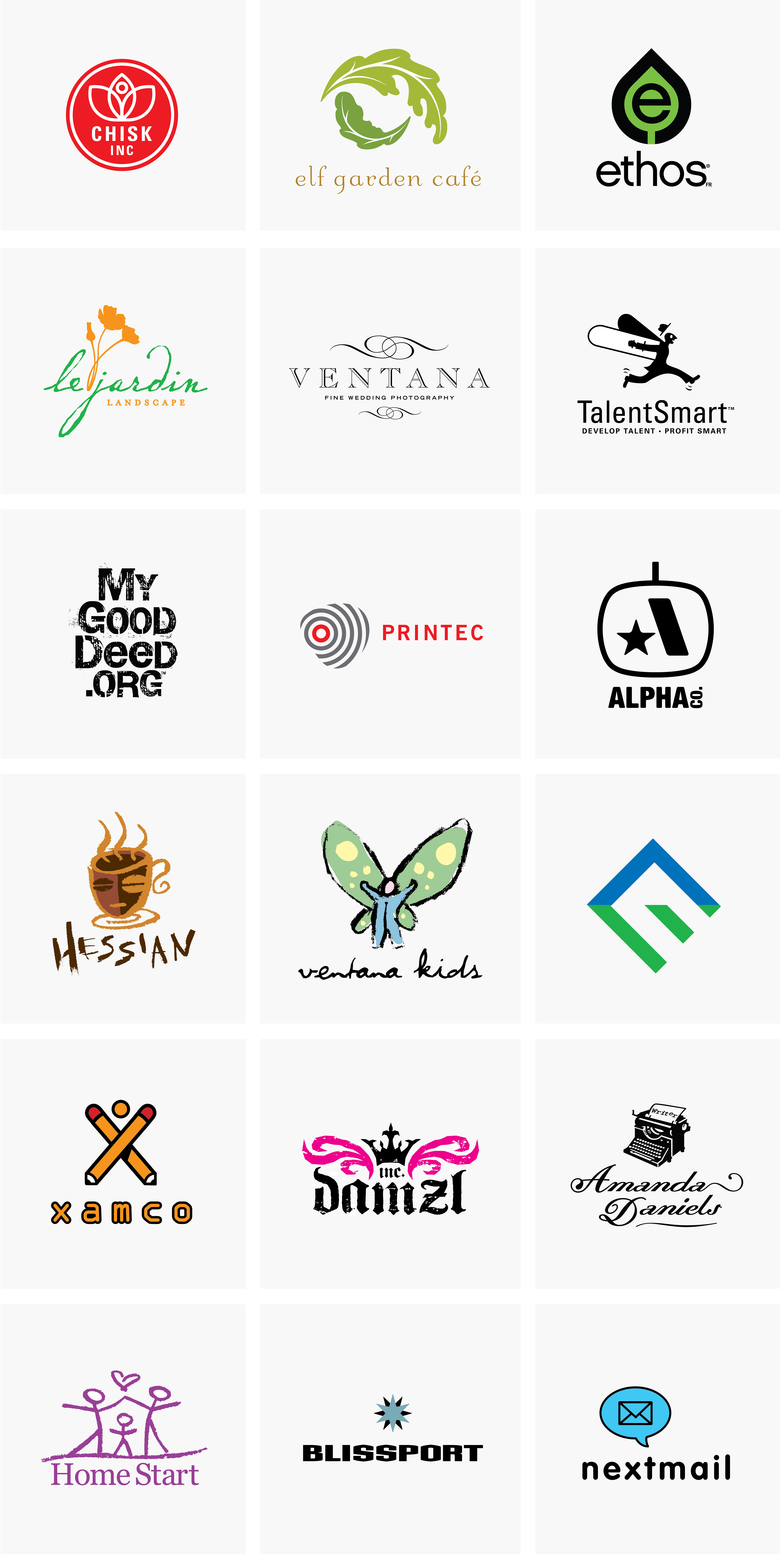 La Jolla Playhouse 
Capital Campaign
I created the identity and print materials for the La Jolla Playhouse $36 million capital campaign that aimed at building a new theatre that would serve as a year-round performance space. The funds also went to expand rehearsal space and offices, enlarge production budgets, expanded education and outreach programs throughout San Diego county.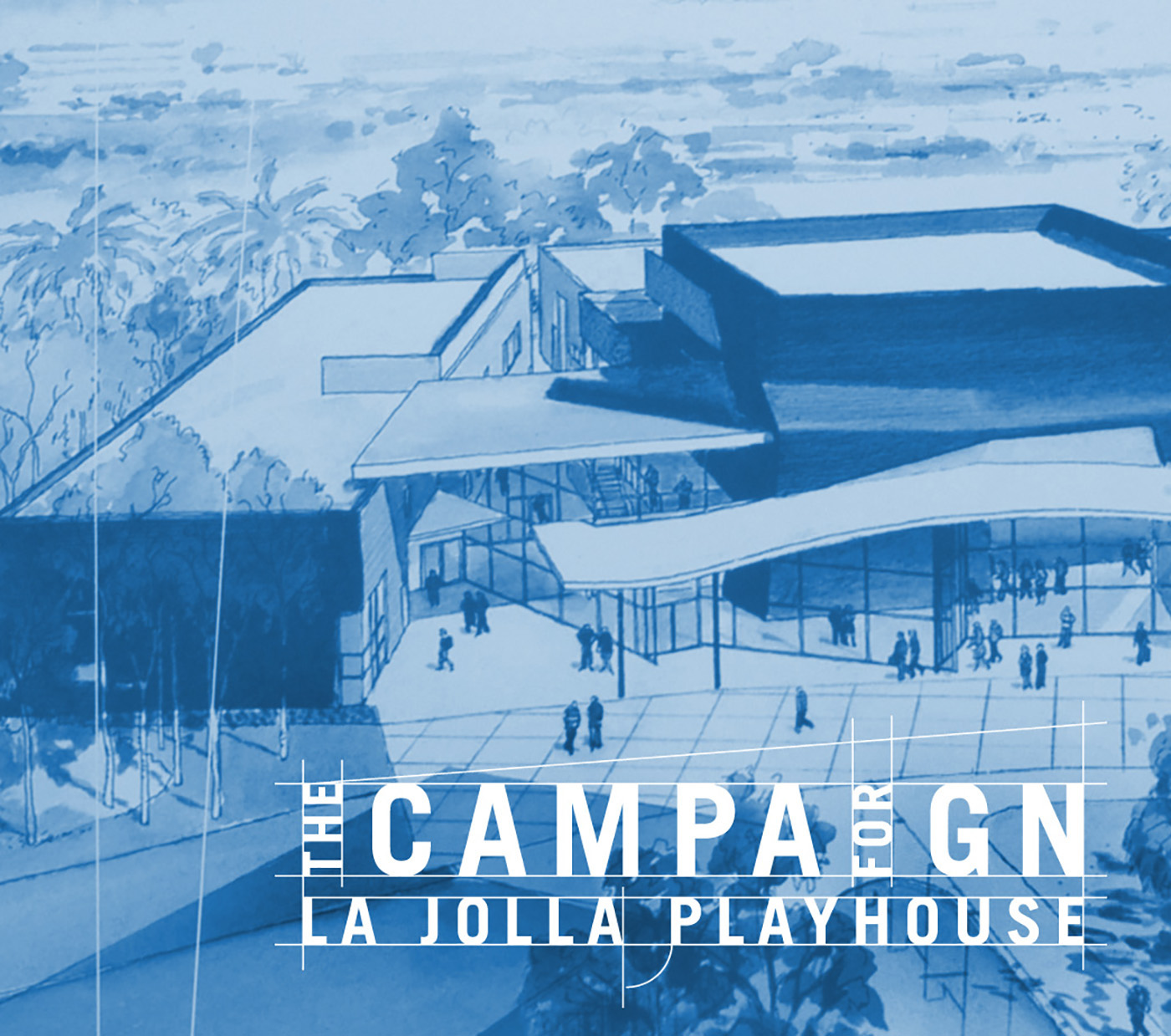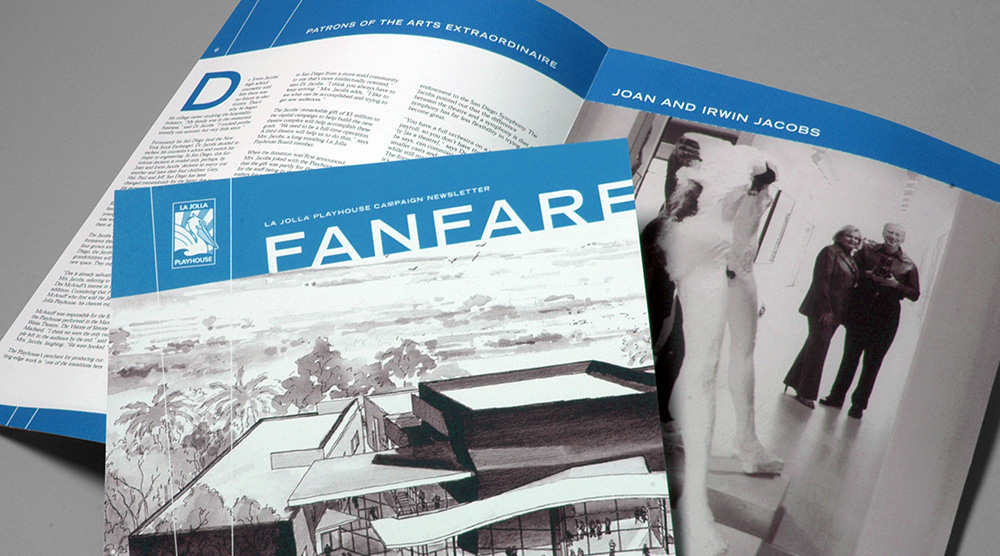 La Jolla Playhouse's 
Special Event Poster
The Playhouse's, artistic creative director, Des McAnuff was turning 50 and to celebrate, La Jolla Playhouse created a big birthday bash. Des won a Tony for his Broadway hit "Tommy". His band and members of Pete Townsend's Band played at his birthday bash and all signed a 6 ft. version of this poster.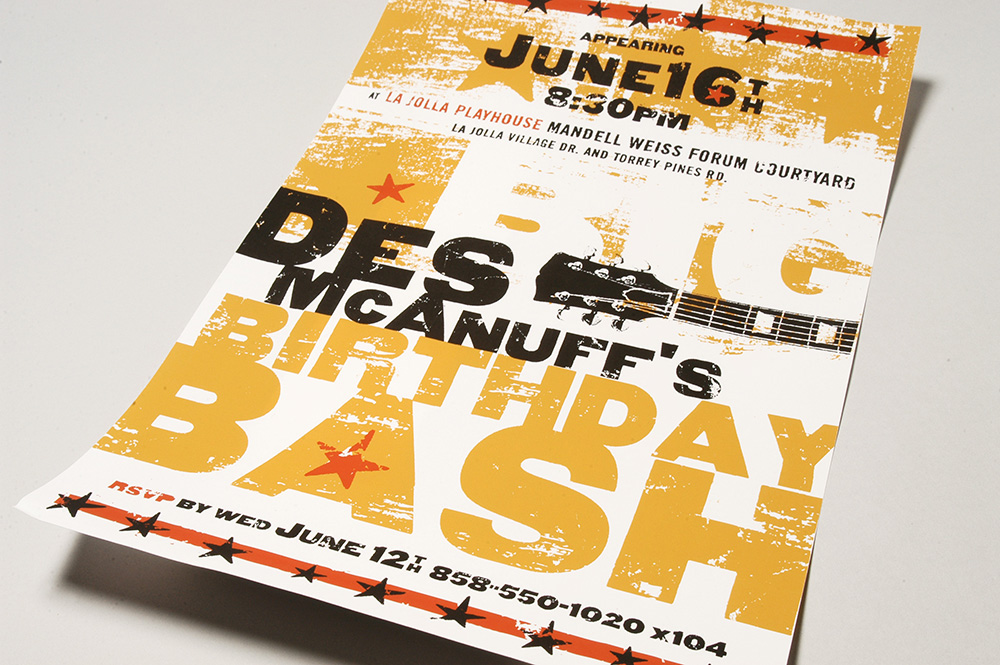 Drucker Institute Centennial 
This identity I created for The Drucker Institute's global commemoration and celebration of the life of the late Peter F. Drucker, eminent author, winner of the Presidential Medal of Freedom and the father of modern management.
The Drucker Centennial
, which marked Drucker's 100th birthday, was crowned by a week of special events at Claremont Graduate University and in locations throughout Los Angeles. Event speakers included leading management thinkers Jim Collins, Stephen Covey, Warren Bennis, Ken Blanchard and Charles Handy. A 20 foot banner was created and displayed for months at the Drucker Institute.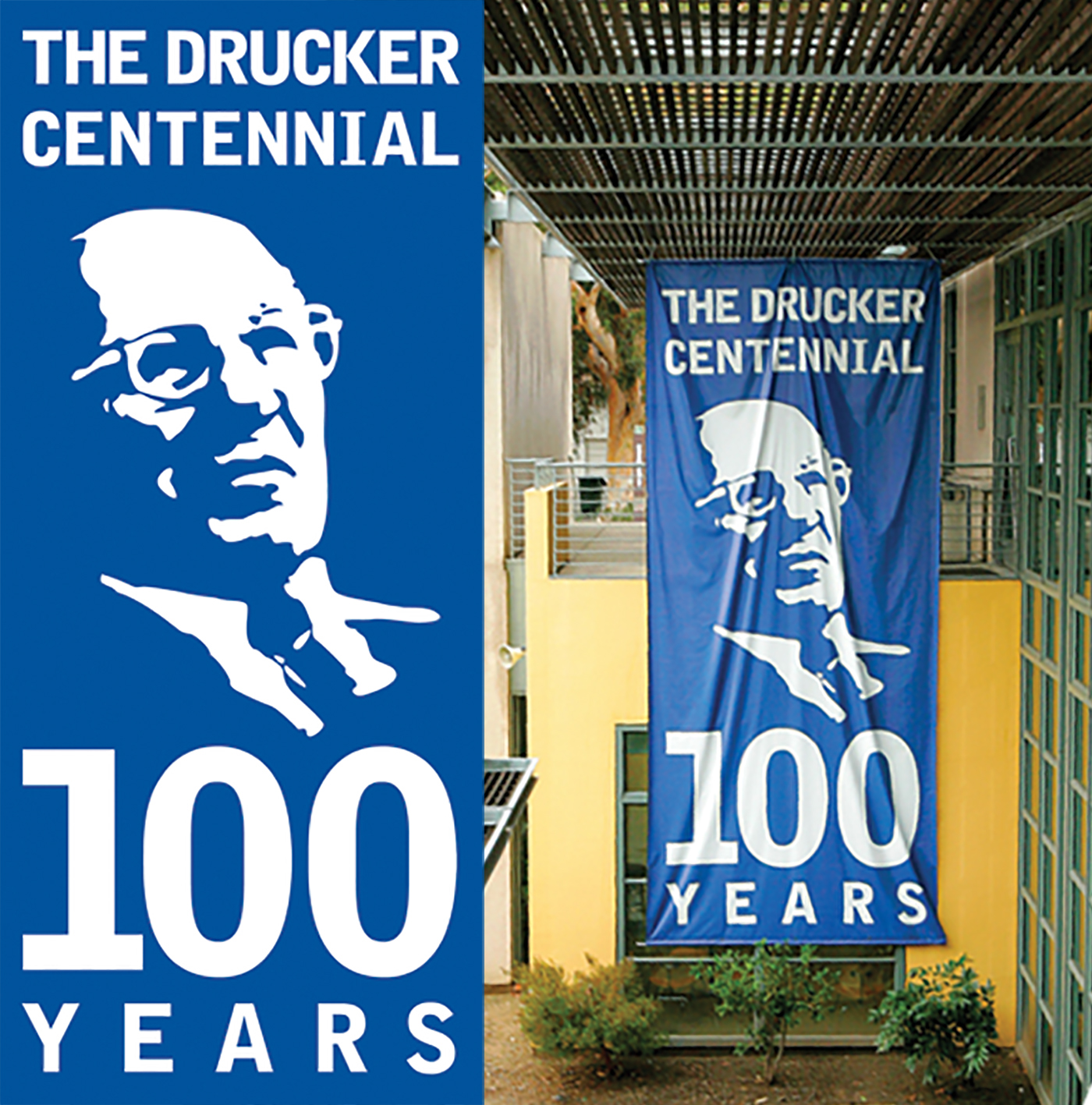 Bishops School of La Jolla
Endowment Campaign
I designed the identity and print materials of the endowment program for The Bishop's School in La Jolla, CA, an independent, coeducational college-preparatory day school for students in grades six through twelve who live throughout San Diego County. The inserts were printed in 2 color with the text and numbers being incorporated via laser printer to be able to update as needed. A template was created for the staff to use to keep the text aligned with the layout.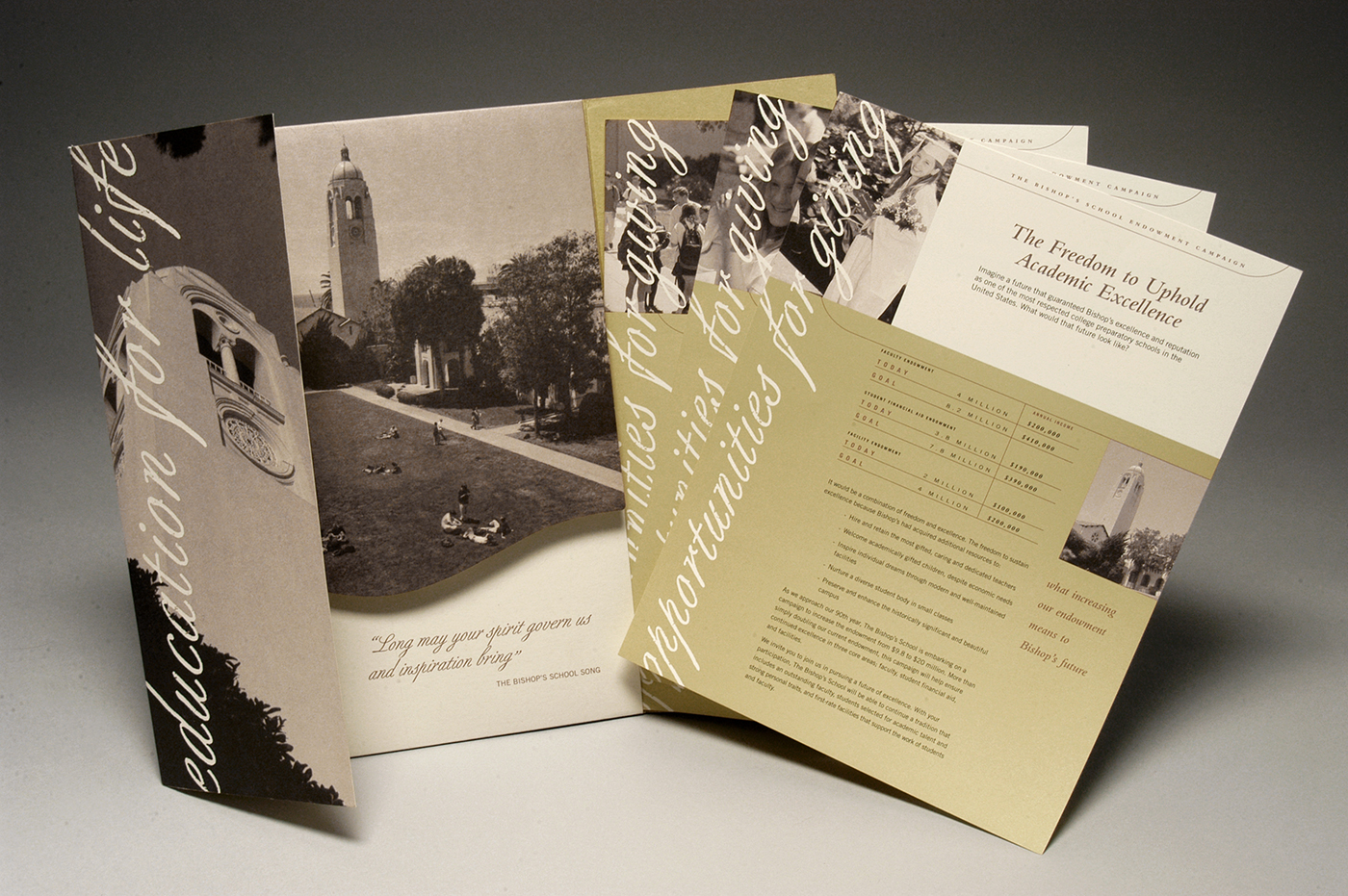 Rachelle Chuang
Rachelle is a fine artist, as well as a respected graphic design educator. She makes her own custom paper and paper sculptures that resemble the pattern in the logo mark. I created her logo to reflect her paper making, paper sculptures while incorporating the C in her name.
Evolution Salon & Gallery
Venice Beach, CA 
Identity / Print Design / Signage
Evolution Salon & Gallery does hair, private and public art shows and holds special fashion events in its unique space near the boardwalk in Venice Beach, California. Nicole Vann wanted something bold, simple and sophisticated.
Ethos FR
Identity / Product Label / Tagline
Ethos FR, Fuel Reformulator, was launching a new product and needed a mark that could be incorporated into many different campaigns. The mark suggests making fuel more environmentally friendly.